One less reason to worry...
Outlook Password Recovery
Outlook Password

by

Thegrideon Software

is advanced tool for MS Outlook password recovery.
It instantly recovers Outlook .pst files passwords. It also recovers e-mail account passwords and server settings saved in MS Outlook records.
You may also check OST & PST Forensics for detailed .pst analysis and data recovery.
Outlook
Password Recovery

Features:
Instantly recovers .pst files passwords
Password can be removed from protected .pst file as well.
Recovers e-mail accounts passwords and settings saved in MS Outlook records.
All Encryption methods are supported.
Large (4Gb+) .pst files are supported.
MS Outlook Profiles and *.pst files search and mass processing.
All MS Outlook versions are supported: 97 - 2016.

Windows

10 Compatible.
I had a 200mb Outlook 97 PST file that somehow got a password on it. Don't know how, but I needed the e-mails back! For $29.95, this program worked perfectly AND was the cheepest password recovery software out there. Very good!,
Alan Rinehart
This program is AWESOME! I will spread the word from now on that it's worth it.,
Bielo
.pst files: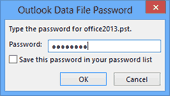 Personal Storage files, also called Personal Folders (Outlook Data files in the latest versions) are the storage for all or a part of your Outlook data: e-mails, contacts, calendar records, etc. Outlook Data files can be password protected as well as encrypted. These files can be associated with MS Outlook Profiles and in such a case your pst file password is your Outlook profile password as well.
Our tool allows you to recover pst file passwords whatever the encryption, password length, file size or Outlook version are. Just open your protected file in Outlook Password or run *.pst or Profile search...
Password recovery for any valid .pst file is guaranteed - in the unlikely case of any issues we will remove or replace your file password for you or refund your order if we are unable to.
Trial period is endless. Trial version allows you to check your file(s) format and password(s) recoverability. Recovered passwords are hidden behind the asterisks "****".

With the "Home User" License, you can use the program for non-commercial purposes in non-business, non-commercial environment (personal files). To use the program in a corporate, government or business environment (clients or corporate files), you should purchase the "Business User" License.

Home User license is only $29.95 and Business User license is $44.95.

After payment processing is completed, you will immediately receive the email with your registration key. The key should be entered into the evaluation version, which can be downloaded from this page.
Copyright © 2003-2017 Thegrideon Software. All rights reserved. All trademarks, logos, product names & pictures mentioned or displayed herein are the property of their respective holders. Thegrideon Software and Thegrideon Service are trademarks of Thegrideon Corp. Terms of use | Privacy