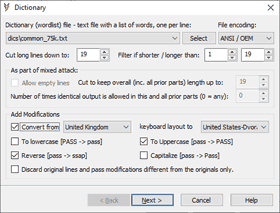 Dictionary attack password candidates are generated based on a list (wordlist) loaded from a file. It can be a list of common passwords, names, nicknames, national capitals, action figures, words from any language, etc.
Several wordlists are already included with our tools. Personalized wordlist can be created easily as a plain text file with one password candidate per line.
Several modifications are offered to transform every line from the list. For example, word "pass" with 'reverse' and 'to uppercase' options enabled will transform into the following 4 variants: "pass", "ssap", "PASS", "SSAP". Mixed-case modification is available as well.
It is important to note that there are 16 casing variants for 4 chars long password: "pass", "Pass", "pAss", "paSs", "pasS", "PasS", "pAsS", "paSS", "PAss", "PaSs", "pASs", "pASS", "PaSS", "PAsS", "PASs", "PASS", and 256! for a 8 chars long password.
Keyboard layouts conversion technique can be applied to a wordlist items or a char replacement used (Aa with @, Zz with 2, Bb with 8) with preset or custom replacement.
Dictionary attacks are a building blocks for mixed attacks as well.
Copyright © 2003-2018 Thegrideon Software.


Thegrideon Software

and

Thegrideon Service

are trademarks of

Thegrideon Corp.

Terms of use | Privacy.
All trademarks, logos, product names & pictures mentioned or displayed herein are the property of their respective holders.